DRUG OVERDOSE AWARENESS WEEK PROCLAIMED IN NEBRASKA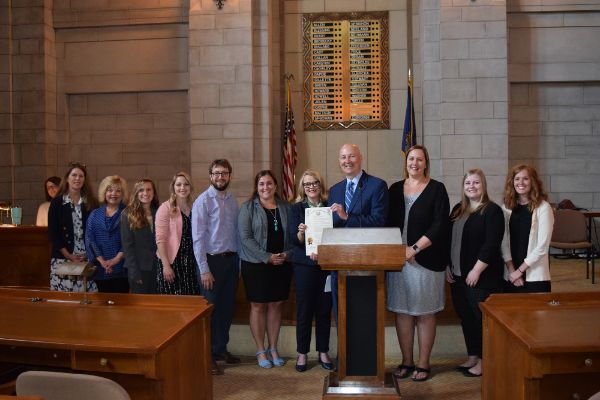 FOR IMMEDIATE RELEASE
Contact: Jennifer Wemhoff, Groundwater Foundation, 402-434-2740       
---
Lincoln, NE (August 8, 2019) – At a ceremony at the Nebraska State Capitol on August 7, 2019, Nebraska Governor Pete Ricketts declared August 25-August 31, 2019 Nebraska Drug Overdose Awareness Week.
According to the Centers for Disease Control, drug overdose is the leading cause of death for Americans under the age of 50. More than 15,000 people die each year from overdoses of prescription medications. Unused medications can fall into the wrong hands, leading to accidental poisoning or misuse, making it vital to safely and properly dispose of medications.
The Nebraska MEDS Initiative works with 320 pharmacies across Nebraska to take back medications free of charge, no questions asked. These pharmacies accept medications for safe and legal disposal, giving consumers an easy and safe way to keep medications from falling into the wrong hands, and out of the environment. Find a participating pharmacy at www.leftovermeds.com.
Sarah Hunter, Project Coordinator for the Nebraska MEDS Initiative, says that August 31 was established as International Drug Overdose Awareness Day to increase public knowledge about the severity of drug misuse. "For the third year, the proclamation of Nebraska Drug Overdose Awareness Week will help make consumers aware that they can take unused and expired medications back to the pharmacy any day of the year. Every day is Take-Back Day in Nebraska."
In the signed proclamation, Governor Pete Ricketts urges citizens to visit a Nebraska MEDS participating pharmacy and dispose of any leftover or expired medications in their home, as it protects the citizens and community from accidental poisoning and overdose.
"Since the Nebraska MEDS initiative went statewide in 2016, consumers have taken 82,000 pounds of medications back to pharmacies across the state," Hunter said. "It's our hope that the Nebraska Drug Overdose Awareness Week proclamation will spread the message about what each of us to do to play an active role to raise awareness about drug overdoses in Nebraska."
The Nebraska MEDS initiative is funded by the Nebraska Environmental Trust and the Nebraska Legislature. The Nebraska Medication Education on Disposal Strategies (MEDS) Coalition educates Nebraskans about drug disposal and provides safe ways to dispose of them to better safeguard the environment and protect public health. The Coalition includes the Nebraska Pharmacists Association, Groundwater Foundation, Drug Enforcement Administration, Lincoln/Lancaster County Health Department, Lincoln Police Department, Coalition Rx, Lincoln Public School Nurses, LiveWise Coalition, Nebraska Department of Environmental Quality, Nebraska Department of Health and Human Services, Nebraska Medical Association, AARP of Nebraska, Nebraska Pharmacy Foundation, Nebraska Regional Poison Center, Safe Kids Lincoln-Lancaster County, KETV, Nebraska Attorney General's Office, and Nebraska State Patrol. 
---