GROUNDWATER FOUNDATION ADDS VALMONT REPRESENTATIVE TO BOARD OF DIRECTORS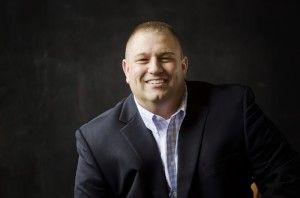 FOR IMMEDIATE RELEASE
Contact: Jennifer Wemhoff
402-434-2740 ext. 107, jwemhoff@groundwater.org
---
LINCOLN, NE (July 16, 2015) – July 16, 2015 (Lincoln, Nebraska) – Matt Ondrejko, Vice President for Global Marketing for Valley Irrigation, has joined The Groundwater Foundation's Board of Directors.
At Valley Irrigation, which is a division of Valmont Industries, Ondrejko is responsible for global marketing strategy and implementation, marketing communications, research, and product development.
"I am excited to be part of the Groundwater Foundation. It was an honor to be asked to join the Board," said Ondrejko. "The work that the Groundwater Foundation does is so important in our current world, and the education they provide will be essential to ensure clean water for future generations."
The Groundwater Foundation has a long history of partnering with Valmont, sharing a passion for advocating responsible use and protection of water resources.
"Now more than ever we have to be conscious of our limited resources," Ondrejko said. "With the ever expanding global population it will be essential for us to have welleducated stewards of the land."
"Valmont has been an important partner in helping fulfil our mission of groundwater education and protection," said Jane Griffin, Groundwater Foundation President. "Matt's addition to the Board of Directors continues this partnership, and we are thrilled at the wealth of knowledge and expertise he'll bring to the table."
Prior to joining Valmont, Ondrejko was Director of Global Marketing at Ridge Tool Company (RIDGID), the hand and power tool division of the global manufacturer Emerson. He led new business development, product line management/identification, and marketing communications.
Ondrejko has worked and lived in Europe and has a global appreciation and focus when it comes to business challenges and opportunities. He has been involved in many different companies and organizations, and understands the vital role water plays in all of them.
"Water is the essence of life. We were only given so much on this earth and it is all of our jobs to use it effectively and efficiently," he said.
###
The Groundwater Foundation is a non-profit organization based in Lincoln, Nebraska with a mission to educate people and inspire action to ensure sustainable, clean groundwater for future generations. Since its inception in 1985, the Foundation has offered various educational programs for youth and adults. To learn more, visit www.groundwater.org.
---