Mount Sopris Instruments and Advanced Logic Technology donate borehole geophysical logger to The Groundwater Foundation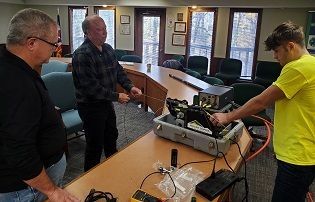 (WESTERVILLE, OH — December 6, 2021) Water wells drilled for families in need on behalf of The Groundwater Foundation are about to become much more sophisticated.
Mount Sopris Instruments Co. Inc. and Advanced Logic Technology have donated a borehole geophysical logger to The Groundwater Foundation that will enter the field in 2022.
The Groundwater Foundation, which is operated by the National Ground Water Association, helps provide new wells for families who lack access to water and cannot afford the total upfront cost of a new private water well system. The Groundwater Foundation helps fund these new systems through a partnership with the Water Well Trust.
Wells drilled through the program are provided to families through zero interest loans with low-cost monthly payments.
The newly donated borehole logger is a geological instrument that will be placed into the new wells and provide information on its water quality, quantity, and depth. This information can be used to better inform how to complete construction of the well and its future treatment needs. The estimated value of the equipment is more than $40,000.
"It is our hope that by donating this equipment we will be able to help provide families with wells that produce cleaner water and operate for a longer period of time," said Jim LoCoco, CPG, owner of Mount Sopris Instruments in Denver, Colorado, who serves on both the NGWA Board of Directors and The Groundwater Foundation Board of Directors.
"We believe everyone deserves an opportunity to access clean and safe drinking water and this donation is our effort to serve that vision."
Along with the donated equipment, Mount Sopris has also pledged to send expert geophysicists to each drill site to oversee its use and collect the data from the borehole logger.
Mount Sopris Instruments' partner company, Advanced Logic Technology, which produced the equipment's software, is based in Luxembourg.
___________________________
The National Ground Water Association is a not-for-profit professional society and trade association for the global groundwater industry. Our members around the world include leading public and private sector groundwater scientists, engineers, water well system professionals, manufacturers, and suppliers of groundwater-related products and services. The Association's vision is to be the leading groundwater association advocating for responsible development, management, and use of water.
---