McGillicuddy Named 2022 McEllhiney Distinguished Lecturer by The Groundwater Foundation and the National Ground Water Association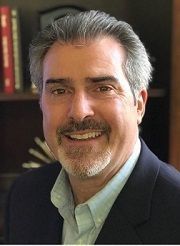 (WESTERVILLE, OH — August 3, 2021) Kevin McGillicuddy, PG, chief hydrogeologist for Roscoe Moss Co., has been selected as the 2022 McEllhiney Distinguished Lecturer by The Groundwater Foundation and the National Ground Water Association (NGWA).
The William A. McEllhiney Distinguished Lecture Series in Water Well Technology was established in 2000 to foster professional excellence in water well technology. The lecture series honors William A. McEllhiney, the 1948 founding president of NGWA, and a groundwater contractor and civil engineer.
Each year, a panel of groundwater professionals invites an outstanding groundwater professional to share his or her insights and work experiences with the industry.
McGillicuddy's 2022 McEllhiney Lecture, "Surface Water and Groundwater Interaction — An Examination of the Natural and Man-Made Ties That Bind Them," will provide an overview of the hydrologic cycle focusing on the interaction between surface water and groundwater through both natural means and engineered programs. How these factors enhance the recharge, storage, and development of surface water and groundwater resources will be addressed to supplement the professional groundwater contractor's knowledge and provide key information to clients.
McGillicuddy has presented lectures and workshops across the country for NGWA and other industry associations where he promotes groundwater science, proper practice, and responsible groundwater use.
"I am honored to have been selected as the 2022 McEllhiney Lecturer and most grateful for joining the company of distinguished lecturers preceding me," said McGillicuddy. "I am looking forward to this opportunity to interact with members of our groundwater community to help develop solutions to the water supply challenges now and in the future."
McGillicuddy holds a B.S. in geology from Boston College and an M.S. in geology from the University of Southern California. In his capacity as chief hydrogeologist with Roscoe Moss, he assists consultants, municipalities, water districts, and contracting firms in the planning and design of water supply wells. Prior to joining Roscoe Moss, he worked as director of recharge operations and as a senior hydrogeologist for the Orange County Water District.
McGillicuddy currently serves on NGWA's Well Standards Committee and is also a member of the American Water Works Association A100, Water Well Standards Committee.
___________________________
The National Ground Water Association is a not-for-profit professional society and trade association for the global groundwater industry. Our members around the world include leading public and private sector groundwater scientists, engineers, water well system professionals, manufacturers, and suppliers of groundwater-related products and services. The Association's vision is to be the leading groundwater association advocating for responsible development, management, and use of water.
---