DUANE EVERSOLL RECOGNIZED FOR SERVICE TO GROUNDWATER
Professor Emeritus in the University of Nebraska School of Natural Resources to Receive 2018 Maurice Kremer Groundwater Achievement Award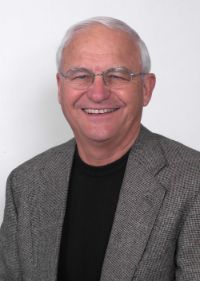 FOR IMMEDIATE RELEASE
Contact: Jane Griffin
402-434-2740 ext. 102, jgriffin@groundwater.org   
---
LINCOLN, NE (February 5, 2019) – Duane Eversoll, retired Associate Director of the University of Nebraska Conservation and Survey Division and Professor Emeritus in the School of Natural Resources, has been selected to receive the 2018 Maurice Kremer Groundwater Achievement Award from the Groundwater Foundation. Eversoll will be presented with the award at the Maurice Kremer Memorial Lecture on February 27, 2019 at 3:30 p.m. in the Hardin Hall Auditorium (room 107) on the University of Nebraska-Lincoln East Campus (33rd and Holdrege Streets, Lincoln). Light refreshments will be served at 3:00 p.m.
The Kremer Award is presented annually by The Groundwater Foundation to an outstanding Nebraskan who has made a substantive contribution to the conservation and protection of Nebraska's groundwater. The Groundwater Foundation is a nonprofit organization based in Lincoln, Nebraska with a mission to educate people and inspire action to ensure sustainable, clean groundwater for future generations.
"Duane has a long history of sharing groundwater information with anyone and everyone," said Groundwater Foundation Executive Director Jane Griffin. "His career demonstrates his deep commitment to protecting the groundwater resources of Nebraska. On behalf of all of us at the Groundwater Foundation, it's an honor to recognize Duane with the Kremer Award."
The Kremer Award is chosen annually by a selection committee appointed by The Groundwater Foundation's Board of Directors. It is named for Senator Maurice Kremer, who spent 20 years in the Nebraska Legislature where he was best known for his contributions toward protecting the state's water resources, earning him the nickname "Mr. Water."
Eversoll is a native of Grand Island, Nebraska and graduated from the University of Nebraska-Lincoln in 1958 with a degree in Geology. After working in the oil and gas industry for Continental Oil in Oklahoma, he returned to Nebraska and joined the Nebraska Department of Roads as a geologist. There he was instrumental in the design and development of water well and septic systems at rest stops in the state, while working with water well contractors on the professional design of a complete water well system.
Eversoll joined the University of Nebraska's Conservation and Survey Division (CSD) in 1974. When the Nebraska Water Well Licensing Board was formed in 1984, Eversoll was appointed to the board to represent CSD. He became Associate Director in 1989.
He provides expertise to citizens and companies in locating private water wells and encouraging designs that not only meet legal requirements, but also protect groundwater. He also leads geological seminars and field trips to provide continuing education about geology and hydrogeology of Nebraska for water well professionals.
The Kremer selection committee unanimously selected Eversoll for the award. Committee member and past Kremer recipient Lee Orton said, "Duane's career exemplifies his deep dedication to educating people and protecting groundwater. Even in retirement, Duane continues to demonstrate his interest in enhancing and improving the professionalism of the water well and onsite wastewater industries and their service to Nebraska."
For more information about the Maurice Kremer Groundwater Achievement Award, visit www.groundwater.org/kremer. To find out more about The Groundwater Foundation and to get involved, visit www.groundwater.org.
###
Past Kremer Award Winners
2017: Jack Daniel
2016: Tom Carlson
2015: Susan Seacrest
2014: Robert Kuzelka
2013: Ron Bishop
2012: Dayle Williamson
2011: Lee Orton
2010: J. Michael Jess
2009: Vance Anderson
2008: Ann Bleed
2009: Jim Cook
2006: Senator Ed Schrock
2005: Roger Patterson
2004: Darrell Watts
2003: Chris Beutler
2002: Eugene Haarberg
2001: Jim Goeke
2000: Wayne Madsen
1999: Richard Harnsberger
1998: Les Sheffield
1997: Robert B. Daugherty
1996: Frank A. Smith
1995: Fred Salmon and Family
1994: Virginia Smith
1993: Robert B. Crosby
1992: Ted Filipi
1991: Ralph Marlette
1990: Warren Fairchild
1989: Val Kuska
1988: Eugene Reed
1987: Maurice Kremer
1986: Vincent Dreeszen
---