Groundwater Foundation Names John Doherty 2019 Henry Darcy Distinguished Lecturer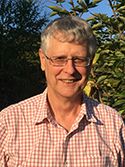 (WESTERVILLE, OH - October 8, 2018) – The Groundwater Foundation today announced that Dr. John Doherty, author of PEST, the widely used software package for groundwater model calibration and uncertainty analysis, will be the 2019 Henry Darcy Distinguished Lecturer.
Bio
Dr. Doherty has worked for more than 35 years in the water industry, first as an exploration geophysicist and then as a modeler. He has worked for both government and industry and held positions at numerous universities conducting extensive research and supervising post graduate students. Currently he owns Australian-based Watermark Numerical Computing that specializes in consulting, research, programming, and education on issues related to model deployment in support of environmental management and impact assessment.
Lecture topics
Dr. Doherty will be presenting two lectures to groundwater professionals throughout the year – "Dancing with Models – The Importance of Model Partner Software" and "Starting from the Problem and Working Backwards." 
"Dancing with Models – The Importance of Model Partner Software" will explore how models can best serve the decision-making process. In doing so, it demonstrates the indispensable role that model-value-adding software should play in this process. The lecture also addresses some available packages, as well as an easy-to-use, public domain parallel model run manager with a nonintrusive model interface that allows rapid development of model partner software by any programmer.
"Starting from the Problem and Working Backwards" explores the belief that a model cannot tell you what will happen in the future, it can only tell you what will NOT happen in the future. Dr. Doherty will highlight why modelers must be educated in the mathematics and practice of inversion, uncertainty analysis, data processing, management optimization, and other numerical methodologies to effectively design and implement modeling strategies that process optimal environmental data.
Darcy Lecture Series Background
Established in 1986, the Henry Darcy Lecture Series in Groundwater Science is named in honor of Henry Darcy of France for his investigations in 1856 that established the physical basis upon which groundwater hydrogeology is studied.
Each year a panel of scientists and engineers chooses an outstanding groundwater professional to share his or her work throughout the year with peers and students.  
---
For additional information, please contact Barbette Culpepper at bculpepper@ngwa.org or 800-551-7379, ext. 1568. 
---