SENATOR TOM CARLSON RECOGNIZED FOR SERVICE TO GROUNDWATER
Nebraska State Senator to Receive 2016 Maurice Kremer Groundwater Achievement Award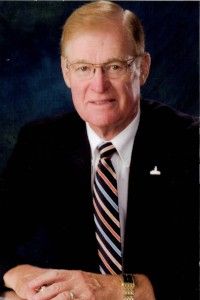 FOR IMMEDIATE RELEASE
Contact: Jane Griffin
402-434-2740 ext. 102, jgriffin@groundwater.org   
LINCOLN, NE (October 26, 2016) – Nebraska State Senator Tom Carlson is the 2016 recipient of the Maurice Kremer Groundwater Achievement Award from The Groundwater Foundation. Senator Carlson will be presented with the award at the joint Nebraska State Irrigation Association and Nebraska Water Resources Association Conference on November 21 in Kearney, Nebraska.
The Kremer Award is presented annually by The Groundwater Foundation to an outstanding Nebraskan who has made a substantive contribution to the conservation and protection of Nebraska's groundwater. The Groundwater Foundation is a nonprofit organization based in Lincoln, Nebraska with a mission to educate people and inspire action to ensure sustainable, clean groundwater for future generations.
"Senator Carlson's work ethic and deep passion for our state's most important natural resource, groundwater, is reflected in his accomplishments during his tenure as a State Senator," said Groundwater Foundation President Jane Griffin. "Our state has benefited from Senator Carlson's deep passion for our natural resources. On behalf of all of us at the Groundwater Foundation I am honored to recognize him with the Kremer Award."
The Kremer Award is chosen annually by a selection committee appointed by The Groundwater Foundation's Board of Directors. It is named for Senator Maurice Kremer, who spent 20 years in the Nebraska Legislature where he was best known for his contributions toward protecting the state's water resources, earning him the nickname "Mr. Water."
"During his two terms in the Unicameral, Senator Carlson was a leading proponent and tireless advocate for legislation to improve the sustainability of Nebraska's water resources," said selection committee member Don Kraus from Central Nebraska Public Power and Irrigation District. 
Senator Carlson actively sponsored and championed LB 1098, which established the Water Sustainability Fund in 2014 to guarantee a future for Nebraska's stressed water resources. Through his efforts, almost $30 million dollars were accumulated to finance water sustainability research in Nebraska in 2015/2016 and will finance water sustainability research into the future. He also worked on legislation related to the Republican River Sustainability Task Force and the extension of funding for the Riparian Vegetation Management Task Force. 
"Senator Carlson's leadership was indispensable during the design and implementation of the Water Sustainability Fund," said W. Don Nelson, former aid to Nebraska Governors Tiemann, Exon, and Kerrey and State Director for U.S. Senator E. Benjamin Nelson. "He can bring reason and calm to the most tempestuous of policy discussions. Most importantly, he is incapable of telling a lie."
Carlson was elected to the Nebraska Legislature in 2006 from District 38. As a State Senator, he chaired the Agriculture Committee from 2009 through 2012 and the Natural Resources Committee in 2013 and 2014, and worked extensively on agriculture and water issues. 
Carlson earned a B.S. in math from the University of Northern Colorado, a M.S. in physical education from Colorado State, and a PhD from the University of Iowa. He served as a faculty member at Wisconsin State University – Oshkosh and Taylor University in Upland, Indiana, and achieved success as a coach of several collegiate sports teams along the way, including golf, baseball, and football.
He later returned to Holdrege and began working for the Bankers Life Insurance Company, which became the Principal Financial Group, where he was a senior agent and held CLU and ChFC designations.  Carlson is an active member of the Holdrege community, and is past president of a number of organizations, including the Holdrege School Board, Holdrege Area Chamber of Commerce, Holdrege Optimists, Holdrege Rotary Club, as well as the Nebraska Fellowship of Christian Athletes. He and his wife, Margo, have three children and four grandchildren.
Selection committee member and past Kremer recipient Jim Goeke said, "Tom Carlson gets groundwater in Nebraska! He understands the relationship between groundwater and surface water and appreciates Nebraska's enviable groundwater resources. For his visionary service to Nebraska, Senator Tom Carlson richly deserves the 2016 Kremer Award!"
For more information about the Maurice Kremer Groundwater Achievement Award, visit www.groundwater.org/action/recognition/kremer.html. To find out more about The Groundwater Foundation and to get involved, visit www.groundwater.org.
###
Past Kremer Award Winners
2015: Susan Seacrest
2014: Robert Kuzelka
2013: Ron Bishop
2012: Dayle Williamson
2011: Lee Orton
2010: J. Michael Jess
2009: Vance Anderson
2008: Ann Bleed
2009: Jim Cook
2006: Senator Ed Schrock
2005: Roger Patterson
2004: Darrell Watts
2003: Chris Beutler
2002: Eugene Haarberg
2001: Jim Goeke
2000: Wayne Madsen
1999: Richard Harnsberger
1998: Les Sheffield
1997: Robert B. Daugherty
1996: Frank A. Smith
1995: Fred Salmon and Family
1994: Virginia Smith
1993: Robert B. Crosby
1992: Ted Filipi
1991: Ralph Marlette
1990: Warren Fairchild
1989: Val Kuska
1988: Eugene Reed
1987: Maurice Kremer
1986: Vincent Dreeszen
---