BE SAFE THIS HALLOWEEN: MEDICATION CAN EASILY BE MISTAKEN FOR CANDY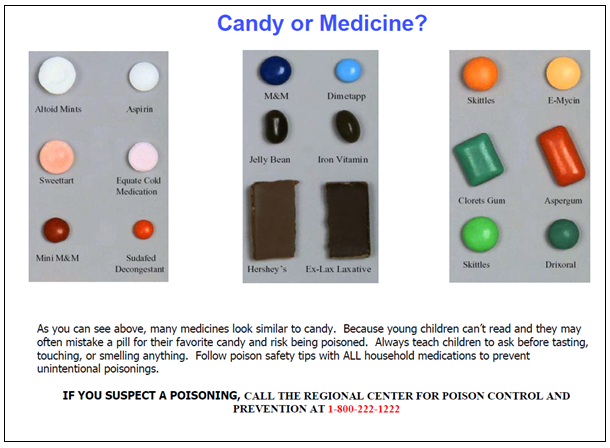 FOR IMMEDIATE RELEASE
Contact: Marcia Mueting, Nebraska Pharmacists Association, 402-420-1500; Joan McVoy, Nebraska Regional Poison Center, 800-222-1222; Cindy Kreifels, The Groundwater Foundation, 402-434-2740       
---
LINCOLN, NE (October 12, 2016) – It's the time of year where ghouls, monsters, and super heroes go door-to-door asking for candy. Help keep all our trick-or-treaters safe this year from accidental poisoning. Many medications found in homes can easily be mistaken for candy. According to a report from Safe Kids Worldwide "about 165 young children are seen in emergency rooms after getting into medications every day in the U.S." 1 That's more than 60,000 children a year accidentally taking medications. Make sure you are being safe this Halloween. Ensure all medications are safely secured, or clean out your medicine cabinet and properly dispose of any unused, leftover, or expired medications by:
Taking them back to a participating pharmacy. Remember, every day is drug take-back day in Nebraska. There are over 290 pharmacies across the state participating in the Nebraska MEDS project. These pharmacies are able to safely dispose of medications year-round, keeping them from falling into the wrong hands and out of our waterways. Go to www.nebraskameds.org or call the Nebraska Regional Poison Center at 1-800-222-1222 to find a participating pharmacy near you.
OR
Along with properly disposing of medications you no longer need with the Nebraska MEDS project, follow these recommendations from the Nebraska Regional Poison Center 2 to prevent accidental poisoning:
Children learn by imitation. Take your medicines where children can't watch.
Don't call medicine "candy."
Use child-resistant packaging.
Lock medicines up after using them.
Since August 2012, over 33,000 pounds of medication have been collected by Nebraska pharmacies for proper disposal.  Be part of the solution and take back your leftovers today.
The Nebraska MEDS project is being offered to the state of Nebraska with funding from the Nebraska Environmental Trust and the Nebraska Legislature. Nebraska MEDS is a coalition of state and community partners dedicated to educating patients about safe disposal of prescription and over-the-counter medications. This project allows residents to dispose of unused and leftover medications.
The Nebraska Medication Education on Disposal Strategies (MEDS) Coalition consists of the Nebraska Pharmacists Association, the Lincoln/Lancaster County Health Department, the Nebraska Department of Environmental Quality, The Nebraska Regional Poison Center, the Nebraska Department of Health and Human Services, WasteCap Nebraska and The Groundwater Foundation.  The mission of the Nebraska MEDS Coalition is to educate Nebraskans about drug disposal and provide safe ways to dispose of them in order to better safeguard the environment and protect public health. 
---