Groundwater Foundation Names Jeff Williams, MGWC, CVCLD, 2020 William A. McEllhiney Distinguished Lecturer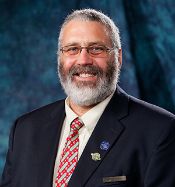 (Lincoln, NE - June 3, 2019) – The Groundwater Foundation announced today that Jeffrey "Jeff" Williams, MGWC, CVCLD, will present the 2020 William A. McEllhiney Distinguished Lecture Series in Water Well Technology.
Established in 2000 to foster professional excellence, the William A. McEllhiney Distinguished Lecture Series in Water Well Technology honors the groundwater contractor and civil engineer from Brookfield, Illinois, who served as the founding president of the National Ground Water Association in 1948. Each year a panel of groundwater contractors chooses an outstanding groundwater professional to share his or her professional insights and experiences with the industry. 
Williams, the vice president of Spafford & Sons Water Wells in Jericho, Vermont, and the 2016 president of NGWA, will present "Running a Business or Doing a Job: Combining Professional Expertise with Business Savvy."
This topic is critical for groundwater industry business owners, as well as those responsible for running a company, and will address the mental transition from viewing one's business as a series of individual jobs to an entity offering a palette of groundwater services.
In today's business climate, planning and managing for greater profitability will determine the state of your business in the future. Williams addresses pressing questions such as:
How do you begin thinking big picture and setting financial and production goals?
What are the benchmarks?
How do you manage equipment, time, and human and financial resources better?
Are you planning your business model to include training, certifications, licensing, and equipment replacement?
How do you bring others involved in the company in this much broader and more goal-oriented transformation?
Like all water well supply contractors and one involved in a family business, Williams understands first-hand the challenges of working with a resource that consumers can't see until it is brought to the surface, the immediate business impacts of regional and national economic conditions, and the critical need to plan for all types of contingencies. Williams' professional experience is varied both in water well supply and geothermal heat pump operations.
Williams became active in NGWA in 2006 as a member of the Safety Subcommittee and as a director candidate. He served on the NGWA Board of Directors before becoming association president in 2016. Williams received the Association's Robert Storm Intersectional Cooperation Award in 2018 for promoting collaboration, enhancing cooperation, and fostering community among all groundwater professionals.
Founded in 1985, the Groundwater Foundation is a 501(c)(3) nonprofit organization that connects people, businesses, and communities through local groundwater education and action, making us all part of the solution for clean, sustainable groundwater. The Foundation provides education and community-based action opportunities that involve individuals, communities, public and private entities in groundwater conservation and protection. The Groundwater Foundation is operated by the National Ground Water Association. Visit www.groundwater.org to learn more.
---
The National Ground Water Association is a not-for-profit professional society and trade association for the global groundwater industry. Our members around the world include leading public and private sector groundwater scientists, engineers, water well system professionals, manufacturers, and suppliers of groundwater-related products and services. The Association's vision is to be the leading groundwater association advocating for responsible development, management, and use of water.
---
For additional information, please contact Barbette Culpepper at bculpepper@ngwa.org or 800-551-7379, ext. 1568. 
---