McEllhiney Lecture Series in Water Well Technology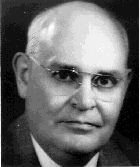 The William A. McEllhiney Distinguished Lecture Series in Water Well Technology was established in 2000 to foster professional excellence in water well technology. The lecture series honors William A. McEllhiney, the 1948 founding president of the National Ground Water Association, and a groundwater contractor and civil engineer.
Each year, a panel of groundwater contractors invites an outstanding groundwater professional to share his or her insights and work experiences with the industry. Individuals may nominate themselves or others they believe to be qualified as a McEllhiney Distinguished Lecturer.
The request period to host the 2021 lecture is now open!
Please fill out and submit the request form by August 25, 2020 to be considered to host Kevin McGinnis in 2021.
For additional information, please contact Barbette Culpepper at bculpepper@ngwa.org or (800) 551-7379, ext. 1568.
Jeffrey Williams, MGWC, CVCLD
"Running a Business or Doing a Job: Combining Professional Expertise with Business Savvy"

Kevin McGinnis — "The Good, the Bad, and the Ugly: Innovative Treatment Options for Established and Emerging Water Quality Challenges"
---
The McEllhiney Lecture Series in Water Well Technology is made possible by support from: