2023 McEllhiney Lecture
Fred Rothauge, CWD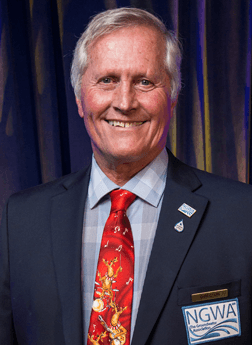 Fred Rothauge has been in the drilling and drilling fluids engineering business for 40 years. He is a licensed water well driller in eight western states, past president of the Colorado Water Well Contractors Association, and current NGWA and The Groundwater Foundation board member. He has coauthored papers on drilling fluid products and is a coauthor for Johnson Screens' third edition of Groundwater & Wells. Rothauge also serves on the board for the Mountain States Ground Water Association and is chairman of the American Ground Water Trust. He oversees drilling fluids and well rehabilitation along with serving as technical advisor for Hydro Resources.
Are We Creating Long-term Groundwater Assets or Just Installing Wells?
When drilling a well, the industry has historically focused on the installation price (as cheap as possible) to drill a well at a given point in time. Since the ultimate consumer is too often concerned only about the bottom line of what is perceived as a one-time purchase, the contractor must clarify the true nature of the water supply asset, to produce a change in the customer's mindset. The contractor must actively educate the customer that they will be purchasing a long-term groundwater supply asset. This educational process includes sharing the well construction measures and materials that will extend the life of the well (asset) and augment the groundwater resource drawn from it.  A well, like any other asset, is evaluated within a long-term life cycle that includes the initial planning and extends to the initial well construction vs. daily operation and maintenance, as well as replacement costs. Such planning and execution also require rethinking of well development and rehabilitation needs and costs. This change in perspective requires the scientist/engineer, suppliers and manufacturers, and other stakeholders to adjust their perspectives from "well" to "asset."
---
Mr. Rothauge will be hosting lectures between January and November 2023. When possible with travel and schedule factors, lectures will be presented in-person. However, the Groundwater Foundation will ultimately decide if a presentation will be virtual or in-person. (Those who submit requests will receive appropriate communication.)
Requests are currently being received from associations and organizations. 
Click here to submit your lecture request online.
Requests made directly to the lecturer will not be honored. 
The deadline for speaking requests is September 30, 2022. For additional information, please contact Sue Tenney at stenney@ngwa.org or (800) 551-7379 — or (614) 898-7791 outside of the United States — ext. 1568.