McEllhiney Lecture Series in Water Well Technology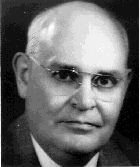 The William A. McEllhiney Distinguished Lecture Series in Water Well Technology was established in 2000 to foster professional excellence in water well technology. The lecture series honors William A. McEllhiney, the 1948 founding president of the National Ground Water Association, and a groundwater contractor and civil engineer.
Each year, a panel of groundwater contractors invites an outstanding groundwater professional to share his or her insights and work experiences with the industry. Individuals may nominate themselves or others they believe to be qualified as a McEllhiney Distinguished Lecturer.
SPECIAL NOTE REGARDING THE 2021 MCELLHINEY LECTURE BEING PRESENTED BY KEVIN MCGINNIS
COVID-19 has necessitated changes be made to the traditional scheduling and presentations by the McEllhiney Lecturer. Many state hosts have cancelled their in-person meetings due to health and safety concerns, in addition to government mandates. As these circumstances change, we will work with the hosts who requested the lecture and update the schedule of presentations as warranted. Please note that those who submitted requests previously will receive appropriate communication on the current plan as we strive to make the lecture available to as many individuals as possible.
2022 MCELLHINEY LECTURER ANNOUNCED
Kevin McGillicuddy, PG, chief hydrogeologist for Roscoe Moss Co., has been chosen as the 2022 McEllhiney Lecturer. He will be presenting "Surface Water and Groundwater Interaction — An Examination of the Natural and Man-Made Ties that Bind Them." Click here to learn more.
Click here to access 2022 McEllhiney Lecture host request form, which needs to be submitted online by September 10, 2021. Please note that the lecture can only be scheduled through The Groundwater Foundation, who will also determine if the presentation will be in-person or virtual. (Requestors should assume that the presentations will be virtual.)
For additional information, please contact Kathy Butcher at kbutcher@ngwa.org or (800) 551-7379 — or (614) 898-7791 outside of the United States — ext. 1526.
---
Kevin McGinnis —
"The Good, the Bad, and the Ugly: Innovative Treatment Options for Established and Emerging Water Quality Challenges"

Kevin McGillicuddy, PG —
"Surface Water and Groundwater Interaction — An Examination of the Natural and Man-Made Ties that Bind Them"
---
The McEllhiney Lecture Series in Water Well Technology is made possible by support from: