2021-2022 Darcy Lecture
Chen Zhu, Ph.D.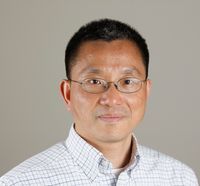 Chen Zhu is a professor of Earth and Atmospheric Sciences and the Haydn Murray Chair at Indiana University. He is also an adjunct professor in the School of Public and Environmental Affairs and School of Public Health at Indiana University. He specializes in water's reactions with minerals and rocks, exploring interactions among the hydrosphere, lithosphere, and atmosphere.
The 2006 recipient of the John Hem Award from the National Ground Water Association in recognition of his significant contributions to modeling the chemical evolution of water, Zhu has been elected a fellow of the American Association for the Advancement of Science, the Mineralogical Society of America, and the Geological Society of America. His book with Greg Anderson, Environmental Applications of Geochemical Modeling published by Cambridge University Press, is used as a textbook at universities around the world.
Zhu holds a Ph.D. from the Johns Hopkins University, an M.Sc. from the University of Toronto, a B.S. from the Chengdu College of Geology, and a postdoctoral fellowship at the Woods Hole Oceanographic Institution. He was a also Fulbright Scholar.
Zhu Will Present One of the Following Three Lectures at Participating Venues in 2021
---
SPECIAL NOTE: COVID-19 has necessitated changes be made to the traditional scheduling and presentations of the Darcy Lecture. Current circumstances dictate that all lectures in the first half of 2021 be presented in virtual format and these will primarily be international venues. A new request form for potential hosts to complete and submit for virtual and potential in-person presentations by Dr. Zhu to take place from June 2021 through June 2022 is now posted. Requests must be submitted online and are due by August 27, 2021 at 11:59 p.m. ET. Click here for more information and to access the form. (Those who submitted requests previously will receive appropriate communication on the current plan.) The Groundwater Foundation will ultimately decide if a presentation will be virtual or in-person.
---
---
Thank you to our 2021-2020 Darcy Lecture sponsors!