Hydrogeology
Hydrogeology is a three-part event developed for teams of up to two students. The Event Guide provides detailed instructions and sample tests; therefore should be read carefully by the Event Supervisor.
Event supervisors will need to do the following to run the event
Read the Event Guide which includes step-by-step instructions and sample questions for each part of the event.
Create or obtain a written test for Part I and Part III of the event.
Obtain the test version of the groundwater computer simulation (entitled The Hydrogeology Challenge) and results page for Part II of your event. Or obtain the paper version of The Hydrogeology Challenge for use as Part II of your event.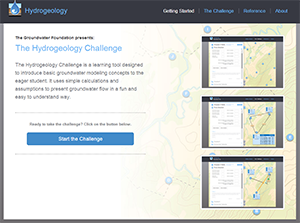 Additional Resources
Are you an Event Supervisor or coach? This Event Guide will walk you through organizing a Hydrogeology event!

Are you a student? Check out this Event Guide featuring an overview of Hydrogeology and recommendations for how to prepare!

Use the Hydrogeology Challenge outside of Science Olympiad and in your classroom with this Teacher's Guide.

The Hydrogeology Challenge is the official groundwater computer model for the Science Olympiad Event: Hydrogeology. This page will provide practice scenarios to prepare for Part II of the event. It is intended as a learning tool to introduce students to basic groundwater modeling concepts.

This 10-minute video will take you step by step through running the Hydrogeology Challenge.

Use this table to study common groundwater contaminants.

The official presentation given at the 2014 Science Olympiad coaches' clinics. Learn the basics about Hydrogeology and how you and your team can achieve the greatest success!

A jointly developed guide to techniques and technologies for soil, groundwater and surface water. Event supervisors should use this to create the remediation table in Part III and students and coaches can use this resource to prepare for competitions. The name of each technique or technology is a link to more details and further information about it including effectiveness and estimated costs.
---
This program is supported by the Nebraska Department of Environmental Quality, the Nebraska Environmental Trust, KACEE, the J.A. Woollam Foundation, and Olsson Associates.