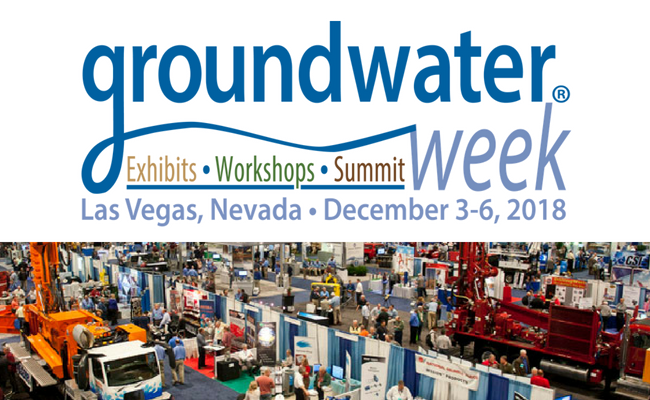 Sponsored by the National Ground Water Association (NGWA), Groundwater Week is held each December and features:
Sessions - Hear from dozens of leading groundwater researchers during 11 technical and two extended learning sessions.
Workshops - Further your groundwater knowledge at numerous workshops, plus the Darcy, McEllhiney, and Birdsall-Dreiss lectures, and optional short courses and workshops including one on PFAS.
Exhibits - Investigate the newest technologies, products, and services in the exhibit hall while improving your skills and learning new ones.
Be at the Las Vegas Convention Center December 3-6, 2018 to meet and learn from dozens of industry experts while you connect with thousands of professionals from all sectors of the groundwater industry. Get inspiration, insight, and motivation during the Opening Presentation and H2O Talk given by Alan Kolok, Ph.D., and the Keynote Presentation by Jose Rene "J.R." Martinez.
On Wednesday, December 5, 2018, a silent and live auction will be held to benefit the Groundwater Foundation's programs and projects. Auction contributions are currently being accepted. Donate to the auction, or donate an auction item (contact Jane Griffin at jgriffin@groundwater.org if you're interested in donating an auction item such as autographed memorabilia, gift baskets, professional services, unique experiences/adventures, etc.).
Donate to the live and silent auction.

Visit the Groundwater Week website to register, see a listing of events, visit the online exhibit hall, and more.
---
Auction Donors
Central Nebraska Public Power and Irrigation District
Marshfield Utilities
Pollack PR Marketing Group
Southern Nevada Water Authority
Valmont Foundation
---