More About the Hydrologic Cycle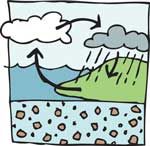 When water from the earth's soil, plants, and water bodies turns into water vapor, the process is called evaporation. This invisible vapor, most of which comes from the world's oceans, travels up into the atmosphere and condenses, forming clouds. This is called condensation. The vapors in the clouds condense more and more until they form water droplets.
Water vapor continues to combine with the water droplet until it is too heavy to stay in the sky any longer. The water falls to the earth as precipitation, such as rain, hail, sleet, and snow.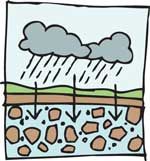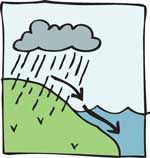 When precipitation reaches the earth's surface, some of it will flow along the surface of the land and enter surface water like lakes, streams, and rivers, as runoff.
The rest of it soaks or percolates into the soil, called recharge. The water then moves down through the soil as groundwater and is stored in the aquifer below.
Once the water has joined the aquifer, it doesn't stop there. The groundwater slowly moves through the spaces and cracks between the soil particles on its journey to lower elevations. This movement of water underground is called groundwater flow.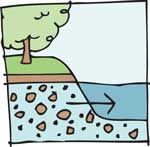 Eventually, after years of underground movement, the groundwater comes to a discharge area where it enters a lake or stream and becomes surface water. There, the water will once again be evaporated and begin the cycle again. Water has been transported through the water cycle for millions of years and will continue this cycle forever. In the water cycle, water is constantly on the move.