If you have volunteered for The Groundwater Foundation, please complete and submit your Volunteer Time and Expense Form today!
Each volunteer is responsible for the accurate completion and timely submission of time and expenses. This information is used for volunteer recognition, and the total of all volunteer hours is helpful to The Groundwater Foundation in obtaining grant funding.
If you are interested in volunteering your time and/or talent, please contact us.
---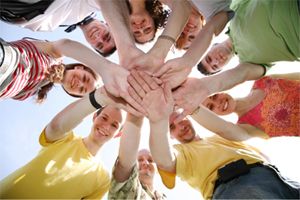 Volunteer Policy
Volunteers are vital to the success of The Groundwater Foundation - they help provide strong programs and accomplish its mission.
The Groundwater Foundation accepts the service of all volunteers with the understanding that such service is at the sole discretion of The Groundwater Foundation. Volunteers agree that at any time The Groundwater Foundation may decide to terminate the volunteer's relationship with the organization.
Definition Of A Volunteer
A volunteer is anyone who, without compensation or expectation of compensation beyond possible reimbursement of expenses, performs a task at the direction of and on behalf of The Groundwater Foundation.
A volunteer must be accepted by The Groundwater Foundation prior to performance of a task. Every Groundwater Foundation volunteer is subject to a criminal records and/or reference check.
Unless specifically stated, volunteers shall not be considered as agents of The Groundwater Foundation. The Groundwater Foundation does not accept the services of employees as volunteers. Members of The Groundwater Foundation Board of Directors and Technical Advisory Committee are volunteers.
Volunteer Rights And Responsibilities
Volunteers are viewed as a valuable resource for The Groundwater Foundation. Volunteers will be extended the right to be given meaningful assignments, the right to be treated as equal co-workers, the right to appropriate training and supervision, and the right to recognition for work done.
In return, volunteers agree to actively perform their duties as outlined by The Groundwater Foundation to the best of their abilities; to ask for help when needed to understand or perform their duties; to maintain confidentiality; and to remain loyal to the mission, policies and procedures of The Groundwater Foundation.
Criminal Records Check
Volunteers in certain assignments may be asked to submit to a background criminal records check. Volunteers who do not agree to the records check may not be accepted.
Reimbursement
In a limited number of situations, volunteers may be eligible for reimbursement for expenses incurred while performing their tasks if the reimbursement has been approved in advance (prior to the date that the volunteer activity is completed) by Groundwater Foundation staff.