Water Awareness for the Weeki Wachee
Hernando County, Florida Groundwater Guardians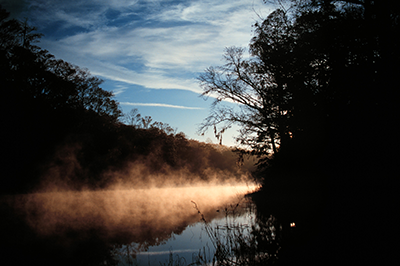 Seated on top of the Floridan Aquifer System, Hernando County, FL is home to a first order spring that discharges over 73 million gallons of clear, fresh water each day. Residents receive 100% of their daily water usage from the Weeki Wachee Spring which, somewhat ironically, translates from its original Seminole into "little spring." 
Alys Brockway, Hernando County Utilities' Water Resource Manager and long-time leader of the local Groundwater Guardian (GG) team, is not a Florida native. In fact, many of the people she interacts with, personally and professionally, are transplants from all over the country who have moved to Florida for its sun, sand, and notable absence of extreme winter conditions. Alys recalls with some amusement that most conversations she enters starts with "Where are you from?" This exciting collision of micro-cultures results in a community that is constantly growing and changing to accommodate the water needs of its residents and tourists. For Alys, however, it requires a consistent effort to ensure locals, businesses, and visitors understand the needs of the karst geography and the Floridan aquifer under their feet.
The program began in 2002, bringing representatives from the major water interests within the county to bring attention to water resource protection. In 2003, the Hernando County Groundwater Guardians hosted their first Groundwater and Springs Education workshop for local government leaders. The goal of this bi-annual workshop is to bring in experts in hydrogeology, groundwater protection, springs, conservation, and Florida's geology to meet with and present to decision makers in Hernando County.  What began as meetings between local conservationists, businessmen, miners, developers, and residents has transformed into a full-day event anticipated by community leaders well in advance. Excitement surrounding the Hernando County conference quickly spread to neighboring counties. The 8th biannual workshop, to be held in the spring of 2017, should draw around 200 elected officials and interested parties from at least three counties, as well as resident viewership during the broadcast of the event on local TV channels.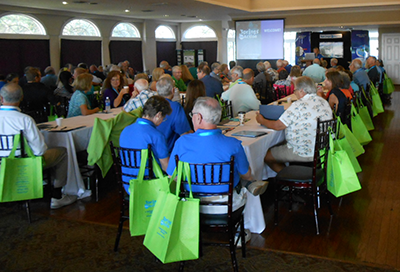 The GG team now looks for a way to maximize their outreach not only to the up-and-coming millennials, but also to those who still are discovering how to navigate social media. Team members regularly attend Homeowners Association meetings and send out fliers with tips to save water inside residents' water bills. The team's next task is to rework their website to include more frequently updated posts, downloadable educational materials, and links to their social media accounts that users can like, follow, and share.
Despite the very visible growth of the GG program, Alys still says that the true measure of their success is in the people who express a new interest in their conservation efforts or conferences. This community stands out in coming together to educate themselves and other Florida residents on water protection. The Groundwater Foundation provides national symbol of recognition to a community who has always wanted simply to care for its local "little spring." 
---
12/2016