Journey to Cleaner Waters
Girl Scouts and The Groundwater Foundation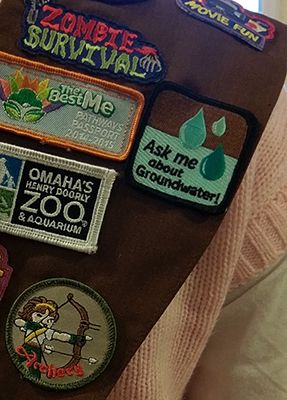 Since 2013, The Groundwater Foundation (GF) and the Girl Scouts Spirit of Nebraska Council have teamed up to help passionate young scientists earn their Let's Keep It Clean! patches and learn about groundwater and environmental stewardship. The Let's Keep It Clean! patch booklets include a number of activities from the GF's resource library, including making water cycle bangles, experimenting with runoff and recharge, and making a center-pivot irrigation model. Many of these activities overlap with certain journeys the Girl Scouts must complete in order to earn their Bronze, Silver, and Gold Awards.
Troop 20605 co-leader, Dana Hartung, took advantage of this overlap and encouraged her Brownies to pursue hydrology, something she's always been deeply connected with. Dana grew up on a farm and learned early on that all parts of the environment interacted with each other. With her own daughter, Dana wanted to make sure that despite living in the city of Lincoln, Nebraska, environmental stewardship was a significant part of her daughter's education. What Dana found, however, was that many of her daughter's friends were totally unaware of the water cycle and the dangers of pollution. When her daughter's troop leader, Stephanie Hill, asked Dana to come on as a co-leader, she knew this was her opportunity to get these girls thinking about water on local and global scales.
When Dana attended the GF's 30th Anniversary Conference to find out more about groundwater education in the Lincoln area, she attended a pre-conference workshop that was co-led by the GF and older Girl Scouts. She learned how to use the Awesome Aquifer Kit and was introduced to several other educational games and downloadable apps that could easily be adjusted to a young Brownie troop. The seven girls have since been able to explore Nebraska's groundwater and complete their WOW!: Wonders Of Water journey through a number of interdisciplinary hands-on activities. They discovered the mathematical significance of drinking water by comparing models of the total volume of water in the world to the volume of water they can use (1%). They created artful bracelets with beads that correlated to the different steps in the water cycle. They practiced the scientific method by investigating where their daily water comes from and toured a water treatment plant to find out where it goes when they're done using it. At the beginning and end of each school year, they celebrate with a water discovery troop meeting outside, but even when the weather's cold, they are able to keep track of their water use with the GF's Water1der app.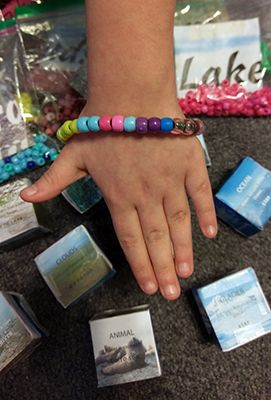 With the girls' growing knowledge of local groundwater issues, Dana knows the next step is to introduce them to water on the global scale. She wants the girls to acknowledge the privilege of having freshwater available at every tap, so she has begun to ask them where in the world people might not have water. Dana plans to start in other parts of the US, teaching them about then Navajo people's inability to regularly access clean water. Eventually, she hopes the troop will make the connection to water rights and conservation in other countries. The biggest struggle for the girls now is to find the confidence to ask questions about what they're learning, but Dana is impressed with how far they've come. With each chance to review, more and more answers are confident and correct and the girls have gotten excited about the prospect of continuing their hydrogeology education.
Dana and her troop are some of the biggest supporters of the continued cooperation between the GF and the Girl Scouts. The soon-to-be Juniors will begin working on their Let's Keep It Clean! Junior patch after their bridging ceremony and Dana hopes that her daughter will be inspired to do a project about groundwater protection to earn her Bronze Award. "Girl Scouts learn to do so much for the environment like not litter, plant trees, and recycle," Dana says.  "I'm excited that now there's a path for them to learn about water, our most precious resource."
---
12/2016