Engaging, Cooperating, and Protecting
Southern Willamette Valley Groundwater Management Area, Oregon Groundwater Guardians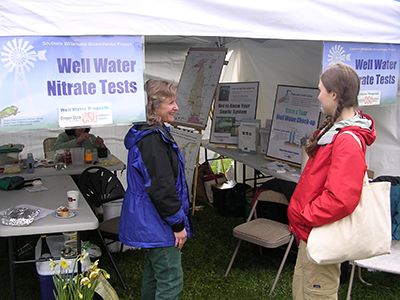 Drinking water's role in public health has become increasingly recognized as a high priority issue in the last few years. From corrosive water in Flint, Michigan to the Elk River chemical spill, the nation has been shocked awake in the realization that the best time to start protecting their groundwater was yesterday. Fortunately for the residents in the southern end of the Willamette Valley in Oregon, the community's been working on groundwater protection since 2001.
During early water quality testing in 2001 and 2002, high nitrate concentrations were found, making the drinking water potentially unsafe throughout the area. The Environmental Protection Agency (EPA) drinking water standard for nitrate is 10 mg/L for public water systems. While there is no standard for domestic wells, some wells inside the GWMA have tested at over 20 mg/L. The Southern Willamette Valley became a designated Groundwater Management Area (GWMA) in 2004 under the management of Oregon's Department of Environmental Quality to develop an action plan to reduce groundwater contamination. Denise Kalakay, Lane Council of Governments, has been helping to coordinate activities in the GWMA and is the Groundwater Guardian (GG) team leader. Reducing nitrate in this area has been a huge undertaking but a unique combination of effort has proven effective. 
The GWMA staff has identified "neighborhoods" with clusters of high nitrate levels. With 230 square miles of mostly farmland and rural communities, these neighborhoods can often be quite large, encompassing groupings of rural residents and many acres of crops, such as grass seed and mint. Many agencies work together including, among others, representatives from the Department of Agriculture, Oregon Health Authority, EPA, Natural Resource Conservation Service, Soil and Water Conservation Districts, and Oregon State Extension Service. This combination of local, state, and national agencies work together to objectively identify high risk areas by analyzing variables such as septic system density, crop type, and soil sensitivity.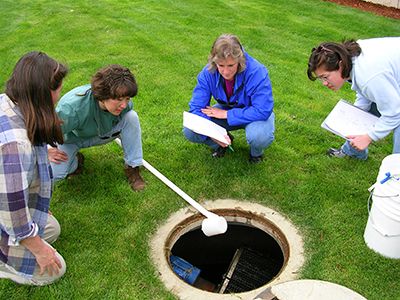 Interagency cooperation can be highly efficient in identifying problems and providing solutions, but the team finds that the best solutions are generated by working with community leaders, realtors, mayors, farmers, rural residents, and environmental groups, gathering them into a Groundwater Management Area Committee. This committee created an Action Plan of voluntary strategies community members can participate in to reduce nitrate as well as to prevent other types of contamination.
A long-term monitoring network will continue to measure progress through time, but the prognosis is good. Despite the retirement of a passionate staff member and significant budget cuts, the team is focusing on maintaining current programs and developing the educational aspect of their project. Denise believes that working towards the specific goal of protecting drinking water, instead of the more abstract "protect water quality", will help inspire her community. People care about people and will act to protect those they care for. By engaging with the community locally and nationally, the Southern Willamette Valley GG team is able to protect drinking water today and tomorrow. 
---
1/2017