Community Action for Safe Water
Washington County Water Alliance, Pennsylvania Groundwater Guardians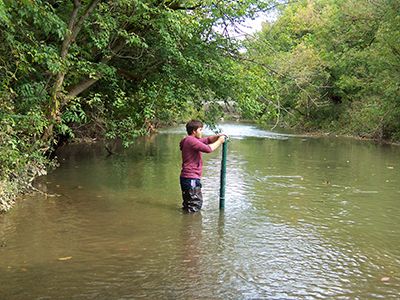 When unconventional natural gas drilling started up in Washington County, Pennsylvania, water quality suddenly became a hotbed issue. The Pennsylvania Department of Environmental Protection defines unconventional natural gas wells as being drilled into an unconventional formation, specifically the shale below the base of the Elk Sandstone formations or a geologic equivalent, where natural gas is extracted using hydraulic fracturing, otherwise known as fracking. The benefits and concerns of fracking are well known. The world receives fewer greenhouse gases at the expense of diminished aquifers; lower gas prices are favored despite potential chemical leaching. Jennifer Dann, Watershed Specialist at Washington County Conservation District (PAWCCD), Treasurer of the Washington County Watershed Alliance (WCWA), and leader of the Washington County Groundwater Guardian (GG) team, has been a leader and organizer of the substantial community support of groundwater protection.
Her team's organization is a little different from other GG teams. Many watersheds inside Washington County boast local groups that are active in water monitoring and educational activities. In order to attain 501(c)(3) status, the groups united under the WCWA, an umbrella organization. The team is made up of representatives from the eight watershed groups, three at-large members, and a representative from the conservation district, currently Jennifer. This team's structure allows for independent yet coordinated action that can act in a way that is suitable for the many communities served.
The group's founding can be traced back to the county's first Children's Groundwater Festival held in 1995. The Groundwater Foundation (GF) championed successful groundwater festivals in GG teams across the nation and, for 13 years, Washington County's program drew over 1000 students annually. Local schools provided transportation and chaperones and were very supportive of this educational festival, largely because many schools are dependent on well water. High attendance and community support drew in other organizations including, but not limited to, the Penn State Cooperative Extension Office, the Farmers Bureau, and some Conservation Districts. In 2008, the venue that held the annual festival underwent renovation and the space requirements were too large for other nearby locations, effectively halting the program. With momentum lost during the hiatus, the GG team hasn't been able to reinstate the Children's Groundwater Festival due to tightening of school budgets in recent years.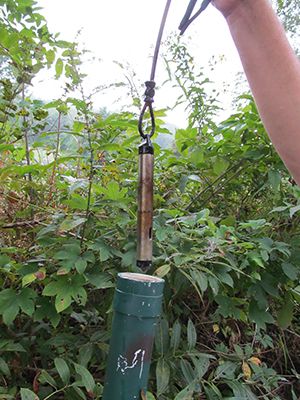 Joan Jessen, founder of the Washington County GG program; Beth Kahkonen, former project director with PAWCCD/WCWA; and Jennifer are all trained scientists and wanted to continue scientific incorporation into the social movement towards groundwater protection and conservation. In 2011, instream data loggers were installed and, to this day, record conductivity, water temperature, and water level every 15 minutes automatically.  Because of the geology of the county, all streams are spring-fed. Subsequently, the GG team distributed monitors for volunteers to install inside toilet tanks in homes equipped with private wells. Each flush effectively delivered a new sample of groundwater to be measured. Students from nearby universities and trained community members were encouraged to take an active role in data collection from the 22 stream sites and 70 households involved in the projects. Due to diminished funding, the in-home groundwater monitoring project has been put on hold, but Jennifer is impressed with her community's backing of the surface water program. Her goals include maintaining the surface water monitoring and eventually reopening the groundwater program.
What makes Washington County's GG team so unique is the transparency they have with their constituents. Working with neighboring universities and businesses, Jennifer has been able to connect with students, distinguished researchers, donors, and community organizers. She is able to utilize the GF resource library to reach out to elementary students and long-established residents. This broad network has provided inspiration and commitment for safe water action.  Her team doesn't just want to make people better scientists, but also better citizens.
---
12/2016