A Vital Figure in Keeping Nebraska's Waters Clean
Steve Kelley and Beatrice, Nebraska Groundwater Guardians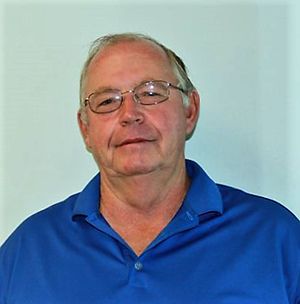 In Beatrice, the name Steve Kelley is synonymous with success. Since starting at the Beatrice Water Department in 1972, he became a licensed Water Systems Operator in 1974, has been the Water Superintendent since 1990, a member of the NRD board since 1992, elected director of the state NARD board since 2014, and recently celebrated 45 years of marriage with his wife. He continues to put his vast experience to work as a chairperson on the Nebraska Governor's Advisory Council and conducting regularly training sessions for other water operators in Nebraska.
For the past ten years, The Groundwater Foundation (GF) has had the privilege of working with Steve in his role as head of the Beatrice Groundwater Guardian (GG) team. The City of Beatrice, a community of about 12,200, provides water to both urban and rural environments. Water quality has been an issue due to several nitrate hotspots, complicated by a stale relationship between local farmers and the Water Department. The Beatrice GG team played a critical role in restoring those relationships through inclusion, discussion, and education. The two wellfields, approximately nine miles northwest of the city, have long produced naturally high-quality water. When plumes of contaminants started to move in, some wells had to be shut down to prevent further contamination.
Stakeholder meetings and team discussions generated remediation plans for the Old Wellfield as well as protection plans for the City Farm Wellfield. The team was inspired by surface and groundwater protection plans in neighboring communities and incorporated ideas to address issues of nitrogen use, lawn care, duplicate fertilizer, gardening, and tree maintenance. Steve worked closely with city residents and farmers alike to find grant money to pay for the installation of moisture sensors and connections to the water main. He credits the willingness of his community to recognize the importance of water in their daily lives and work together to ensure that everyone is doing all they can to protect it. For more information on this project, please read about it in Steve's own words here.
Steve has had to learn a lot on the job. His wisdom comes from persistence and a hands-on approach. Beatrice is slightly unusual in that its Water Department does its own construction and testing, requiring its employees to have a strong working knowledge of water systems engineering. In 1998, the American Water Works Association granted Steve the George Warren Fuller Award, presented to distinguished members who have displayed the "sound engineering skill, brilliant diplomatic talent, and constructive leadership" characterized by the award's namesake. His practical experiences and tacit expertise make him uniquely qualified to train other water operators throughout Nebraska, able to answer questions and provide assistance to nearly all aspects of an urban/rural water system.
Because he has spent so much of his time learning, Steve has become an excellent teacher, and not just to other Nebraska water operators. He has provided tours of the water treatment plant to 7th grade students on field trips and, on his own time, volunteered with the GF in order to earn grants for 5th grade water education. For older generations, he works with the University of Nebraska – Lincoln Gage County Extension Service to bring in speakers, usually professors or conservation and agriculture experts, who share their insight on the environmental issues the Beatrice community cares about.
Even as Steve nears retirement, he remains focused on his work by keeping an open mind and listening to his neighbors' needs. While the people in Beatrice may have different values, he has been repeatedly overwhelmed by community support when his team prioritizes the common goal: safe drinking water. 
---
12/2016