Sponsor a Classroom
Sponsor a Classroom is a campaign aimed at providing educators with groundwater curriculum and instructional materials across the country. This yearly campaign is hosted by the Groundwater Foundation in association with the National Ground Water Association.
The goal of the campaign is to connect industry sponsors to educators and their classrooms across the United States. The Groundwater Foundation will handle the matchmaking, you just need to decide if you want to sponsor a classroom.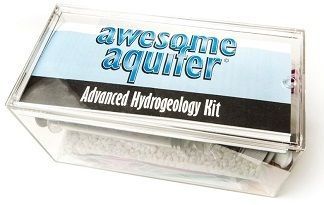 The Awesome Aquifer Kit is a fun and educational groundwater kit with everything you need to build an aquifer model. Instructions and activity supplies are included to walk you through learning all about groundwater.
In January 2022, we will be launching a digital version of our Awesome Aquifer Kit to suit all distance learning needs! Awesome Aquifer 360 will include the same standards, lessons, and hands on activity as the physical kit without having to store, clean, or replace any materials.
How to Become a Sponsor
Step 1. Read the details about how your company benefits from this donation.
What you receive after sponsoring:
Sample press release
Social media post with your logo
Your logo on this page
Logo in the quarterly and annual reports
Logo printed on a lightweight sign to be displayed in the sponsored classroom — "Our classroom has been sponsored by XYZ Drilling."
Step 2. Sponsor!

Your charitable deduction for federal income tax purposes is limited to the excess of the amount of money contributed over the value of the goods or services provided by the charity.
Step 3. Receive a sponsor confirmation email and wait to be paired with an educator!
How to Register Your Classroom
Step 1. Fill out this survey with contact information.

Step 2. Receive confirmation of registration email.
Step 3. Wait to be sponsored!
You will receive an email from Bex Armbruster (barmbruster@ngwa.org).