Wellhead Protection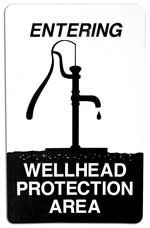 Wellhead protection means protecting the area surrounding public drinking water supply wells, and in turn, protecting drinking water supplies. Groundwater is and will continue to be the source of drinking water for many communities. Protection of this vital resource is important! For example, expanding development may bring with it more potential sources of contamination; growing populations may stress the quantity of water available; and intensive agricultural practices may increase the need for more proactive management strategies.
Whether faced with an existing impairment to the water source or seeking ways to prevent contamination, wellhead protection makes good economic and environmental sense!
Each state has a different approach to wellhead protection, but in general, wellhead protection involves: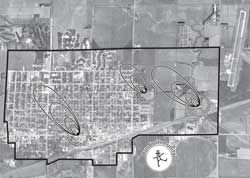 Delineating the Wellhead Protection Area

A map is drawn to illustrate groundwater flow, time-of-travel zones, and geographic boundaries to determine the land area that could influence groundwater. The area is determined from information such as the geologic makeup of the aquifer the well draws from and the well's pumping capacity.

Conducting a Potential Contaminant Source Inventory

An inventory of all potential sources of drinking water contaminants is conducted, usually compiled from existing state regulatory databases and on-the-ground observations. Common potential contaminants can include agricultural, commercial, industry, and other practices.

Contaminant Source Management

The potential contaminant sources identified during the inventory should be managed in a way to prevent any groundwater contamination. Local communities have many options, including ordinances, zoning restrictions, land purchases, conservation easements, voluntary actions, encouragement of best management practices, and local government cooperative efforts.

Contingency Planning

Wellhead protection includes having a plan in place to provide a replacement source of drinking water in the event of a well shut-down due to contamination, natural disaster, major mechanical or physical breakdown, vandalism, or other identified cause. The plan often includes short-term temporary sources of drinking water and options for long-term water sources, such as a new well.

Public Education

The public should be informed throughout the wellhead protection process, and involved in efforts to protect groundwater and drinking water. Efforts can include making the wellhead protection plan available for public review, holding public meetings, and outreach through mailings and media.
Management Makes Sense
Wellhead Protection Area (WHPA) Management is the next step communities can take after developing a wellhead protection plan. This step leads communities through identifying management strategies that will have the greatest effect on reducing the threat of contamination to their drinking water source. The Groundwater Foundation, in cooperation with the Nebraska Department of Environmental Quality, developed a Wellhead Protection Area Management Planning Manual as a step-by-step guide to completing the process.