A number of organizations and agencies in Nebraska work to support communities as they develop and adopt wellhead protection (WHP) programs. The Nebraska Wellhead Protection Network (NeWHPN) began in 2001 to provide an opportunity for these organizations and agencies to meet, discuss their work and identify community needs. Meetings are also an opportunity for the group to get information about hot topics related to their field.
The Groundwater Foundation serves as facilitator and record-keeper for the NeWHPN, which is funded by the Nebraska Department of Environmental Quality.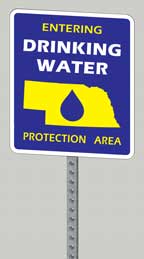 Date: October 3, 2019, 9:00 a.m. - 4:30 p.m.

Location: Valley Irrigation, 28800 Ida Street, Valley, NE

Details: The workshop's theme is "Emergency Management and Contingency Planning to Protect Nebraska's Water Supply" and will cover:

1) Why having a comprehensive emergency management plan is important
2) How to develop an emergency management plan
3) Stories of how towns and businesses survived the extreme floods this past spring

Featured speakers include Sue Dempsey, with the Nebraska Department of Health and Human Services; Dr. Natalie Umphlett with the High Plains Regional Climate Center; and Bob Gillen, VP of Operations at Valley Irrigation. Lunch and a tour of the facilities are generously provided by Valley Irrigation.
Find a list of recent meeting dates, locations, sponsors, and topics of discussion. Agendas and discussion minutes are available to the public. These documents are provided in downloadable PDF format.

For information about older meetings, please contact The Groundwater Foundation at 1-800-858-4844 or info@groundwater.org.
---
Opportunities for Involvement

The Wellhead Protection Network Education Subcommittee has begun meeting again. If you would like to get involved in this committee that explores ideas for tools that will help spread wellhead protection messages, please contact The Groundwater Foundation at 402-434-2740.

Have an idea for a Wellhead Protection Network meeting location, speaker, tour, or general content theme? Let us know! Contact The Groundwater Foundation at info@groundwater.org or 402-434-2740 with your ideas.