A Community Toolkit: In Nebraska
Are you interested in getting community members aware of its source of drinking water?

Would you like to increase educational efforts about groundwater in your area?

Do you want to get your community involved in long-term protection or conservation efforts?

Would you like to get a wellhead protection plan in place for your community?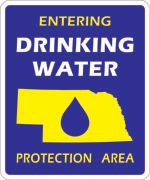 If you answered YES to any of these questions, we want to work with you!
The Groundwater Foundation would be happy to discuss the work we are doing in communities in Nebraska, and bring these same efforts to yours. The Groundwater Foundation has received funding from the Nebraska Environmental Trust to conduct on-the-ground work in Nebraska communities, including talking with local government and businesses, participating in community events, resources for developing conservation and protection efforts, and other awareness building activities.
Contact us to get your community involved - call 402-434-2740 or email info@groundwater.org.