Groundwater Guardian Process
"Never doubt that a small group of thoughtful, committed citizens can change the world; indeed, it's the only thing that ever has."
--Margaret Mead (1902-1978), cultural anthropologist
The Groundwater Foundation has witnessed the positive environmental impacts Groundwater Guardian teams, the small groups of thoughtful, committed citizens, have had in communities across North America.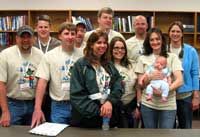 Get Started!
Get involved by forming a Groundwater Guardian team that is representative of the community or organization, generally consisting of citizens, business and/or agricultural representatives, educators, and local government officials. To officially enter the program, the team submits an Annual Entry and Administrative Fee to The Groundwater Foundation. Teams entering the program for the first time can enter at any time during the year.
Take Action
Groundwater Guardian teams develop Result Oriented Activities (ROAs) to address the community's groundwater protection concerns and priorities. ROAs fall into many categories including education and awareness, pollution prevention, public policy, conservation, and best management practices.
Report Your Progress
By August 31st, teams complete an Annual Progress Report detailing their progress during the year. Groundwater Guardian designation is earned by the team when substantive progress is made toward the implementation of activities and accomplishment of goals. Because groundwater protection is an ongoing process, teams re-enter the program each year as they continue to build on previous successes.
Celebrate!
The year culminates with a celebration of Groundwater Guardians' accomplishments, held in conjunction with The Groundwater Foundation's Bi-Annual Conference. The conference brings together a diverse group of community representatives and their partners to be designated as Groundwater Guardians. Most importantly, the conference is an opportunity to network and share success stories with others who may benefit from their community's experiences.
Keep It Going!
Again, groundwater protection is an ongoing process. Teams maintain their designation by re-entering the program each year. Continuing communities submit their Annual Entry and Administrative Fee by February 15th of the subsequent year. Annual Progress Reports are always due by August 31st.
---