How the Green Site Program Works
Who can apply for Green Site designation?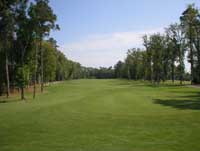 Anyone who manages or maintains a green space can apply for Green Site designation, including golf courses, sporting fields (baseball, soccer, etc) or athletic complexes, school campuses, residential complexes, city parks, private parks, recreational sites, office parks, and more.
How is Green Site designation determined?
Designation is based on the score of your Green Site application, and requires earning a minimum of 70% of total applicable points. Points are based on your site's current practices related to pesticide and fertilizer use, water use, managing sources of pollution, protecting water quality, and environmental stewardship.
What is the Green Site application?
The Green Site application is a tool that evaluates each site's current practices related to groundwater. It calculates and documents the environmental and water quality benefit of groundwater-friendly practices on green spaces, such as pounds of fertilizer saved annually by using lower input plants, gallons of water saved annually by using low water/maintenance plant materials, and amounts of toxic substances disposed of properly. The application also documents a site's education efforts, both internally for site staff and externally for site visitors.
The application is a way to objectively and uniformly evaluate each site's practices, but also serves as an educational tool for site managers and staff to learn about the positive impact of the work they do.
What does it cost?
To help cover program costs and provide benefits to participating sites, site managers should submit an administrative fee with their application.
For profit sites
First-time sites: $100
Renewing sites (those designated in previous years): $50
Non-profit sites*
First-time sites: $50
Renewing sites (those designated in previous years): $25
Non-profit sites will be asked to provide their Federal Tax ID number on their application, renewal form, or fee form.
When are applications due?
Applications may be submitted at any time. Applications should be submitted by December 31 to be designated in a given program year. All applications received after this date will be designated in the following program year. Sites designated prior to The Groundwater Foundation's National Conference, held in the fall, will be recognized in conjunction with the National Groundwater Guardian Designation Celebration.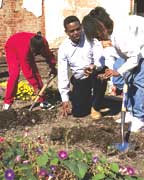 How do I maintain my designation?
Maintaining your site's designation is simple. Site managers review their most recent Green Site program application for accuracy, make any changes or updates as needed on the application review form, and submit their administrative fee by December 31 of each program year. That's all it takes!
What if I suspect someone has lied on their application?
The Groundwater Foundation trusts that each applicant completes their application honestly. Site managers sign the program application upon submission, stating that the information submitted in the application is current and accurate to the best of their knowledge. If any questions arise, The Groundwater Foundation reserves the right to contact site managers to review the content of their application for accuracy.
How long does it take for my application to be processed?
Applications are processed as they are received. Please expect to wait at least 2-3 weeks before hearing how you scored. If designated, you will be honored at the next National Groundwater Guardian Green Site Designation Ceremony, held in the fall in conjunction with the Groundwater Foundation National Conference.
What if my application does not score high enough for my site to be designated?
Don't be discouraged! One of the benefits of filling out the application is seeing immediately what improvements could be made to raise your score. The Groundwater Foundation will work with you and provide ideas on how to improve your score to become designated. You are highly encouraged to apply again after implementing new strategies to help protect groundwater and increase your overall score.
Will the information from my Green Site application be shared?
The Groundwater Foundation values and respects your privacy. All information submitted to The Groundwater Foundation in individual Green Site applications is confidential, and will not be shared without the permission of the site manager. Cumulative data from Green Site environmental impact data may be shared, but without identifying individual sites.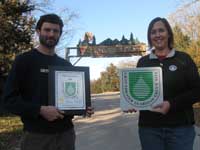 What happens once my site is designated?
You'll receive an official Groundwater Guardian Green Site plaque, as well as a PR toolkit filled with tips and suggestions on how to make the most of your designation as a Green Site. The Groundwater Foundation will also send a news release to the local media contact(s) you provided to help spark interest. Sites can also use the official Green Site name and logo around their site.
More questions?
Contact us!
Email guardian@groundwater.org or call 1-800-858-4844.
---