Green Site Environmental Impact
On each Green Site application, sites report environmental impact data related to their maintenance practices. Participating sites have documented impressive positive environmental impact numbers since the program began in 2007.
Participating Green Sites have: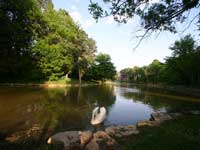 Saved over 480,000,000 gallons of water by tracking usage, modifying practices when necessary, and choosing plants adapted to the region's climate that require lower inputs.
Reduced fertilizer use by over 900,000 pounds by basing fertilizer usage on nutrient analysis and using lower input plants.
Reduced pesticide use by 34% by using label recommended application rates and implementing integrated pest management.
Properly disposed of potentially hazardous materials, including:
Over 2,100 used batteries
Nearly 45,000 gallons of used oil and other fluids
Nearly 1400 tires
Over 160 gallons of antifreeze
Nearly 5,000 light bulbs
Over 120,000 pounds of hazardous waste and other materials

Implemented a variety of positive changes in order to improve their environmental practices, including:
Recycling (135 sites)
Landscaping improvement (i.e. native plants, etc.) (85 sites)
Changes in fertilizer and pesticide usage (100 sites)
Changes in irrigation practices or updating irrigation equipment (40 sites)
Water conservation initiatives (50 sites)
Stormwater management (37 sites)
Wildlife habitat installation (79 sites)
Education (20 sites)
Added areas of Minimum or no maintenance (34 sites)
Plus a wide variety of other practices

---