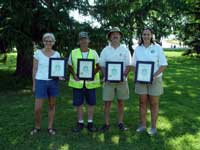 Just for Green Sites
Make the most of your designation as a Groundwater Guardian Green Site! Your site's recognition as a Green Site is an excellent opportunity to communicate your groundwater-friendly practices to the public. Get ideas on ways to publicize your designation, celebrate your achievements, and more!

Use this release as a follow-up to the initial news release sent by The Groundwater Foundation to announce your Green Site designation. Be sure to include specific information about your site and its practices, and any plans you have to celebrate your designation locally.

As a designated Green Site, you have the right and ability to proudly use the distinctive Groundwater Guardian Green Site name and logo throughout your site. By doing so, you can help maximize your designation. Click to find suggestions and guidelines for logo use.

Please call us at 1-800-858-4844 or email guardian@groundwater.org to request a digital copy of the Green Site logo. Please be sure to include your name, email address, and the name of your designated Groundwater Guardian Green Site in your request.

Share your site's environmental stewardship by posting these signs with the Green Site logo! 12" X 12" aluminum signs are available for purchase in our Groundwater Catalog.

Find valuable information from the US Geological Survey about groundwater. If you've used USGS products or websites in the past, tell us about it by taking this short survey.
---