Why Should I Become a Green Site?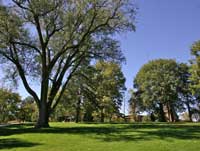 The Groundwater Guardian Green Site program recognizes the groundwater stewardship of green space managers. The program encourages managers and superintendents of green spaces to implement, measure, and document their groundwater-friendly practices, and documents current practices related to pesticide and fertilizer use, water use, pollution prevention, water quality, and environmental stewardship.
Managers of any green spaces can apply for Green Site designation, such as:
Ball fields and athletic complexes

Residential, recreational, city, and office parks

Wellhead protection areas
Learn About Your Site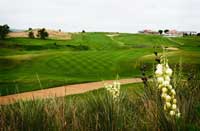 Green Sites collect data and document the environmental impact of their groundwater-friendly practices, including pounds of fertilizer saved annually by using lower input plants, gallons of water saved annually by using low water/maintenance plant materials, amounts of toxic substances disposed of properly, and other related items.
Education is an important component of the Groundwater Guardian Green Site program. Sites document their internal education efforts for site staff and external education for site visitors. The application itself serves dual purposes – first, as a way to objectively and uniformly evaluate each site's practices, and second, as an educational tool for site managers as they work through it.
Site Benefits
Being guardians and good stewards of groundwater is something managers and superintendents of many highly-managed green spaces strive to do every day, whether it's through protecting a well, using water efficiently, managing fertilizer and pesticide use, or controlling runoff. Because of this, the Green Site program:
Publicly recognizes green spaces for their groundwater stewardship.

Generates positive PR for your site.

Provides an opportunity for site managers to educate themselves, site staff, and site visitors about groundwater.

Documents the environmental benefit of sites' groundwater-friendly practices, showing the collective positive environmental impact.

Encourages the sustained use of groundwater-friendly practices on green spaces.

Distributes a monthly newsletter with water news, program information and updates, funding opportunities, success stories, and more.

Provides case studies and other educational resources.

Gives participants the opportunity to connect with other Green Sites, Groundwater Guardians, and water experts through Facebook, blogs, and The Groundwater Foundation's National Conference.

Provides discounted or free access to Groundwater Foundation webinars.

Gives participants discounted registration rates to Groundwater Foundation events, and a 10% discount on Groundwater Catalog orders.
It's Confidential
All information submitted to The Groundwater Foundation in Green Site program applications is confidential, and will not be shared without the permission of the site manager.
You Can Start Now!
There's no time like the present! Sites can use the exclusive Green Site logo and name as soon as they are designated. Get involved as a Green Site now and take advantage of the opportunity to share your groundwater stewardship efforts with visitors and the community.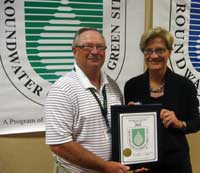 Your Efforts Are Celebrated
Groundwater stewardship of Groundwater Guardian Green Sites are celebrated in many ways. The Groundwater Foundation publicizes designation through local media contacts, on its website, in its various publications, and with its program partners. In addition, a designation celebration is held with the Foundation's National Conference, held in the fall.
---