Get Started Now!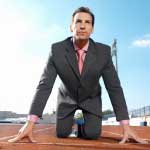 Get Started as a Groundwater Guardian Affiliate
Your organization can get started by submitting an Annual Entry and Administrative Fee to The Groundwater Foundation. Affiliates entering the program for the first time can enter at any time during the year.
Take Action
Organizations develop Result Oriented Services (ROSs) that provide support to Groundwater Guardians and other communities implementing groundwater protection activities.
Report Your Progress
By August 31st, Affiliates complete an Annual Progress Report detailing their progress during the year. Groundwater Guardian designation is earned by the organization when substantive progress is made toward the implementation of services and activities, and accomplishment of goals. Because groundwater protection is an ongoing process, Affiliates re-enter the program each year as they continue to build on previous successes.
Celebrate!
The year culminates with a celebration of Groundwater Guardians' accomplishments, often held in conjunction with The Groundwater Foundation's Annual Conference in the fall. The conference brings together a diverse group of community representatives and their partners to be designated as Groundwater Guardians. Most importantly, the conference is an opportunity to network and share success stories with others who may benefit from their community's experiences. A webinar or other celebration is held in years when no conference is planned.
Again, groundwater protection is an ongoing process. Affiliates maintain their designation by re-entering the program each year. Continuing Affiliates submit their Annual Entry and Administrative Fee by February 15th of the subsequent year. Annual Progress Reports are always due by August 31st.