Read The Aquifer

Current Issue
Fall 2015 (Vol. 30 #2)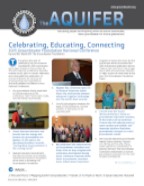 Celebrating, Educating, Connecting
This & That
Mapping Earth's Groundwater
Voices: Mr. Groundwater, Intership Changing Behavior
To Flush or Not to Flush?
Susan Seacrest Honored
Become a Groundwater Foundation Member!
---
Past Issues
---
Reach Aquifer readers
The Aquifer is delivered to over 8,000 readers. Would your company or organization like to reach our diverse readership? Consider sponsoring a space in The Aquifer. Find out more.