2015 Groundwater Foundation National Conference
October 20-22, 2015 | Embassy Suites | Lincoln, Nebraska
It's Just the Beginning...Let's Get Started!
---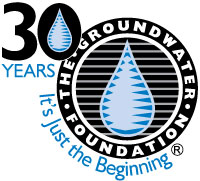 The Groundwater Foundation began in 1985 with enthusiasm and passion for groundwater. Now, 30 years later, the Foundation celebrates this milestone by looking to the future: it truly is just the beginning.
Groundwater is perhaps an even more critical resource now than three decades ago. Increased demand for groundwater for drinking water, agriculture, and industry, along with ever-changing threats from contamination, puts groundwater at an important juncture - one that necessitates action by each and every one of us.
The 2015 Groundwater Foundation National Conference served as a call to action on behalf of groundwater. The future is upon us, and action is needed to identify challenges and develop approaches and solutions to address them. From climate change and growing societal needs to a wide variety of emerging contaminants, each of us will need to be prepared to prevent and mitigate the potential risks to this precious resource.
Through knowledgeable speakers, educational workshops, and unique tours, conference participants found tools and experiences to help them take action to protect groundwater in their communities. 
Listing of sessions, speakers, and special conference events,

A collection of conference presentations. Large file - please be patient as it loads!

Water and Sustainability: 21st Century Realities and the Global Groundwater Crisis
Jay Famiglietti, Hydrologist, University of California-Irvine and NASA Jet Propulsion Laboratory

A tribute to Nebraska well driller and friend of The Groundwater Foundation Wayne Madsen. Wayne was known as Mr. Groundwater in Nebraska and is remembered and respected for his integrity and tenacity in the delivery of education for the cause of groundwater management.
---
Conference Support
National Conference Co-Sponsor
Nebraska Department of Environmental Quality
Conference Partner
Netafim USA
Senninger Irrigation
Valmont Industries
Conference Supporting Sponsor
Southern Nevada Water Authority
Additional Conference Support
Central Nebraska Public Power and Irrigation District
Eagle Group
Lincoln Community Foundation
Lindsay Corporation
Lower Platte North Natural Resources District
Lower Platte South Natural Resources District
Nebraska Association of Resources District
Nebraska Environmental Trust/Nebraska Academy of Sciences
Olsson Associates
Reinke Irrigation
30th Anniversary Story Teller Sponsor
Marshfield Utilities
30th Anniversary Story Teller Supporter
National Ground Water Association