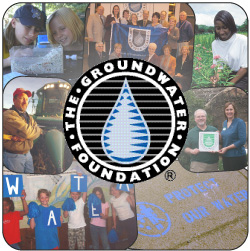 Join The Groundwater Foundation Today!
Groundwater is the water we drink, the water that grows our food, the water that enriches our lives. By becoming a Groundwater Foundation member, you're taking a step toward protection, conservation and management of our precious groundwater resources.
You are the reason we exist. You, who uses groundwater every day, whose community and world are nourished by groundwater.
We can't do it without you. Through your generous membership contribution, you help people discover the magic of groundwater through our educational programs and projects and help ensure sustainable, clean groundwater for future generations.
---
Groundwater is Magical!
---
Benefits of Membership
As a member you make this happen, starting with the resources that we provide for you, our members:
The AquiferQuarterly electronic newsletter relates current groundwater issues and happenings, showcases community groundwater protection efforts, and more.

The Recharge ReportE-newsletter with a glimpse into current groundwater issues, including news, Groundwater Foundation program updates, action ideas, and links to cool websites.

Special Rate for Groundwater Foundation National ConferenceReceive a special reduced registration rate for The Groundwater Foundation's National Conference, held every other year.

Access to Information and ResourcesFind unbiased, scientifically sound groundwater information and resources through the Groundwater Foundation website, Groundwater Blog, Facebook, and Twitter.
Programs Supported By Members
Most importantly, your membership dollars will be used to fuel The Groundwater Foundation's mission of groundwater education and protection. This mission is fulfilled through a variety of innovative and effective outreach programs and efforts:
Youth-targeted programs teach important groundwater concepts and encourage youth to develop leadership and environmental stewardship skills.

Community-based programs educate citizens about groundwater and support a variety of community groups as they work to protect and conserve local groundwater supplies.
Membership FAQ
Why Is Protecting Groundwater So Important?

Groundwater is hidden from view and as a result most of us simply take it for granted. But when we turn on a faucet, half of us get groundwater. It's important that our drinking water is safe and healthy for us and for our families.

Can the Quality of Groundwater Affect My Health and the Health of My Family?

Absolutely! Maintaining groundwater quality is key to maintaining our health and the health of the environment. The Groundwater Foundation helps protect you and your family's health by educating individuals about the practices that keep contaminants out of drinking water, and by helping people take action to protect groundwater locally.

Can Groundwater Be Contaminated?

Unfortunately, groundwater contamination can and does happen. Carelessly discarded motor oil, pesticides, industrial solvents, commonly used lawn and home chemicals can move downward through the soil, causing contamination. Cleanup may not be possible, and if it is, groundwater restoration almost always carries a huge price tag. It's much safer and easier to protect groundwater in the first place, and it starts with educating people about it.

How Does The Groundwater Foundation Help?

Groundwater Foundation programs are designed to help people understand the importance of groundwater. The Groundwater Foundation also offers programs and ideas for citizens everywhere to make a difference in keeping groundwater safe and plentiful!

How Do I Become a Member?

What Are My Payment Options?

The Groundwater Foundation offers several membership payment options. We accept only US currency.