Groundwater Guardian Forms
Groundwater Guardian forms serve several purposes. They provide Groundwater Guardian teams with a framework and tools to get organized, plan activities, and track progress made. They provide Groundwater Foundation staff with information to prepare Groundwater Guardian Community Profiles, both on-line and in print. And, they provide the Groundwater Guardian Council with information to determine whether a team has earned Groundwater Guardian status.
Community Forms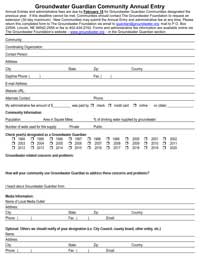 Annual Entry Package
Due February 15 for teams designated the previous year. NEW teams may submit at any time. Includes the Entry form, Team List, and Result-Oriented Activity (ROA) Plan forms. Provides information about the community, team, and activities.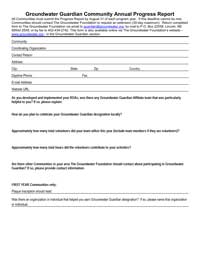 Progress Report
Due August 31 of each program year. Provides information on the progress of each of a team's activities.
Do you just need parts of the Entry package?
Groundwater Guardian Affiliate? Find your forms here.
---