Groundwater Guardian Benefits
By becoming involved in the Groundwater Guardian program, you will be part of a network of communities and organizations acting locally and having a global impact.
As a Groundwater Guardian, you will benefit by having access to: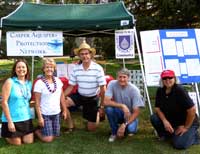 A Framework for Local Action
The real work of groundwater education and protection takes place on the local level. By beginning or enhancing your groundwater education and protection efforts with a strong local team and a clear framework for action, communities can be successful right from the start. Groundwater Foundation staff is available to coach you through the process of building and maintaining a Groundwater Guardian team and adopting successful groundwater education and protection activities.
Lessons Learned
There's no need to reinvent the wheel! Teams who enter Groundwater Guardian learn from the experiences of other Groundwater Guardian Communities. New Groundwater Guardian Communities can learn how others have organized to take action and be effective, as well as learn from past successes and challenges. Groundwater Guardian provides you with a variety of networking opportunities to learn from others and make your groundwater education and protection efforts stronger. Team members can connect with other Groundwater Guardians through Facebook, blogs, newsletters, and The Groundwater Foundation's National Conference.
Recognition
Each year, Groundwater Guardians are recognized nationally by The Groundwater Foundation for the work they do to educate the public and protect groundwater. The Groundwater Foundation celebrates the accomplishments and showcases the work of these extraordinary teams.
Earning Groundwater Guardian status sets your community apart.

It helps validate your efforts and draws positive attention for groundwater-related work that is all too often overlooked or taken for granted. You can never underestimate the power of saying "thank you" for a job well done!
Incentives to Continue Activities Year After Year
To be successful, groundwater education and protection must be ongoing. While the specific nature of the activities may change from year to year, the action itself must continue so groundwater is consistently recognized as an integral part of a community's way of life. Designation as a Groundwater Guardian helps to ensure that continued progress is made on your community's groundwater education and protection activities.
Resources
The Groundwater Foundation provides Groundwater Guardian Communities with various materials, information, and opportunities, including assistance kits; subscriptions to The Groundwater Foundation's publications and newsletters, including a monthly program-specific newsletter, The Aquifer and Recharge Report; an exclusive, numbered plaque to commemorate their designation; special invitations to participate in Groundwater Foundation events and projects; personalized news releases distributed to local media; discounted or free access to Groundwater Foundation webinars; and a 10% discount on Groundwater Catalog products.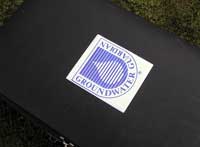 Visual Recognition
Groundwater Guardian Communities also have the right to use the official Groundwater Guardian logo. Using the Groundwater Guardian logo with your education and protection activities helps to create a visual identity to promote groundwater protection work in your community. Designated Groundwater Guardians can request the logo by emailing guardian@groundwater.org or calling 1-800-858-4844. Note: The use of the Groundwater Guardian logo is reserved only to communities currently participating in the Groundwater Guardian program.
---